Vancouver to Iceland | $683 roundtrip after taxes | and welcome Icelandair!
Today Icelandair announced that they would be expanding operations in Canada and start offering flights from Vancouver to Reykjavik, Iceland (KEF). The press release can be found here.
I'm pretty excited about this news, because over the past few years Toronto and Halifax (the only 2 cities Icelandair currently offers flights from in Canada) have seen some pretty amazing prices to Iceland thanks to IcelandAir, sometimes in the range of $500 roundtrip after taxes!
On all other airlines, the price to Iceland rarely budges much lower than $1200, usually connecting through Europe.
I had always hoped they would one day expand to Western Canada so the west would start to see the sorts of prices that Eastern Canada has enjoyed. They do currently fly out of Seattle, but now that they're flying out of YVR, this will be much more convenient. They've also announced that they'll be flying from Edmonton in 2014 as well.
The other reason I'm excited about it is that Iceland has always been near the top of my list of places I want to check out, thanks to spectacular outdoor scenery, amazing geo-thermal features, and just really cool stuff like snorkeling at Silfra, where you can literally snorkel or dive (in cold, unbelievably blue water) between the tectonic plates of America and Eurasia.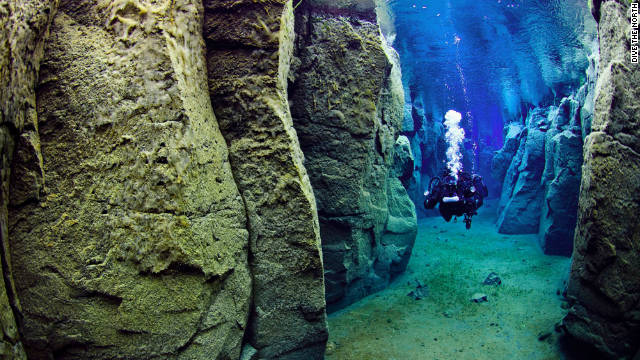 The flights are non-stop between Vancouver and Reykjavik, and the flight time will be about 7 hours each way. For comparison, a flight to London or Amsterdam is around 9 hours each way from Vancouver. Iceland may *sound* further away than other places in Europe, but it's actually a fair bit closer. Measure with your fingers on a globe to see why.
The other cool thing about Icelandair is that you can almost always get a free stopover in Reykjavik, when it involves airfares to other places that they fly (all of their flights route through Iceland).
This can often lead to cheap multi-destination trips involving Iceland and Copenhagen (Denmark) or Oslo (Norway) or Amsterdam or London or Paris, and many other places that Icelandair flys to. At least, it has from Halifax and Toronto in the past.
The bottom line is that Icelandair coming to Vancouver could potentially mean cheaper fares to other destinations in Europe, not just to Iceland. More competition never hurts.
Being so far north, the ideal time to visit Iceland is in June, July and August when temperatures are warmest. Not surprisingly, these are the months where Icelandair is most reluctant to drop their prices, because of the increased demand.
From watching Icelandair fares from Toronto/Halifax, I can tell you there are usually some pretty great prices in the shoulder months around summer, such as in May/June or September.
To have a look at what the fares are like right now, try this:
Step 1: Go to http://www.icelandair.ca/
Step 2: Change the 'From' box to Vancouver. Type KEF in the 'To' box (so much easier than trying to remember how to spell Reykjavík).
Now you can begin exploring dates and prices. Here's what I've seen as far as the cheapest date combinations in 2014 at the moment. Prices are roundtrip and after taxes.
April 2014 - $953
May 2014
$650 (example: May 28 to Jun 15) -- cheapest date combo found so far
$683 (example: May 14 to May 27, or May 28 to June 08)
June 2014
$755 (example: June 09 to June 15)
$788 (example: June 02 to June 15)
July 2014 - $855 (example: July 02 to July 15)
August 2014 -
$755 (example: August 18 to August 26)
$805 (example: August 06 to August 19)
This is often the case when an airline announces a new route, you can get some pretty awesome introductory prices to try and fill up the plane with passengers.
These are not the only date combinations available, just examples. If you see any cheaper date combinations when searching, please share.
Hit Like if you like this deal! Click Share to show your friends on Facebook.
People That Liked This Page Also Liked:
| | |
| --- | --- |
| | You may also want to check out pages that were tagged with: |
| | |
Be The First To Know About The Next Amazing Deal!
Head to the
YVR Deals Alerts Page
where you can choose to be notified by e-mail, Facebook, Twitter, or RSS Feed the moment an amazing travel deal from Vancouver is found.
Setting up alerts allows you to be one of the first to see a new deal, before it sells out.
And don't worry, alerts are only sent when it's truly an amazing deal.
Like Our Site? Follow Us!
Comments from Facebookers
Comments from Everyone Else